Equipment financing resources that help you discover more ways to grow your business.
NFS Leasing provides a wide variety of equipment financing resources, from informative articles, Toolkits and educational videos to quick grab business infographics to help your business grow and succeed. Our goal is to continue to grow our Resources Library so you can easily discover more ways equipment financing can grow your business.
NFS Leasing's Economic Revitalization Program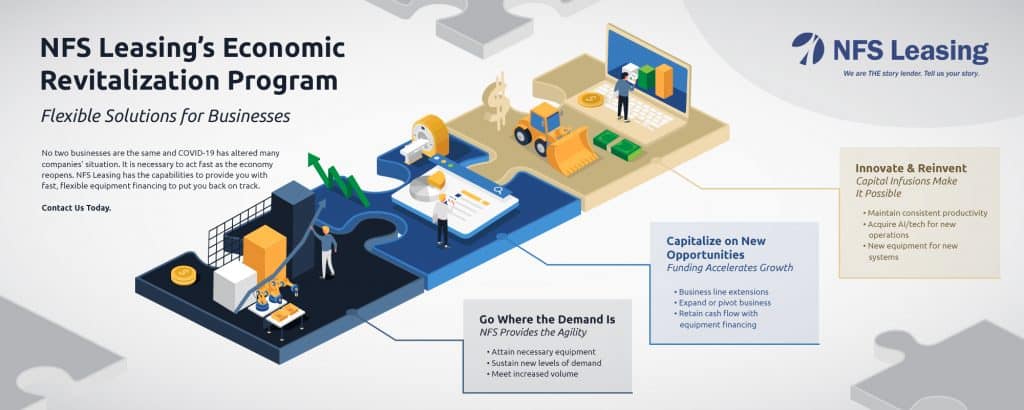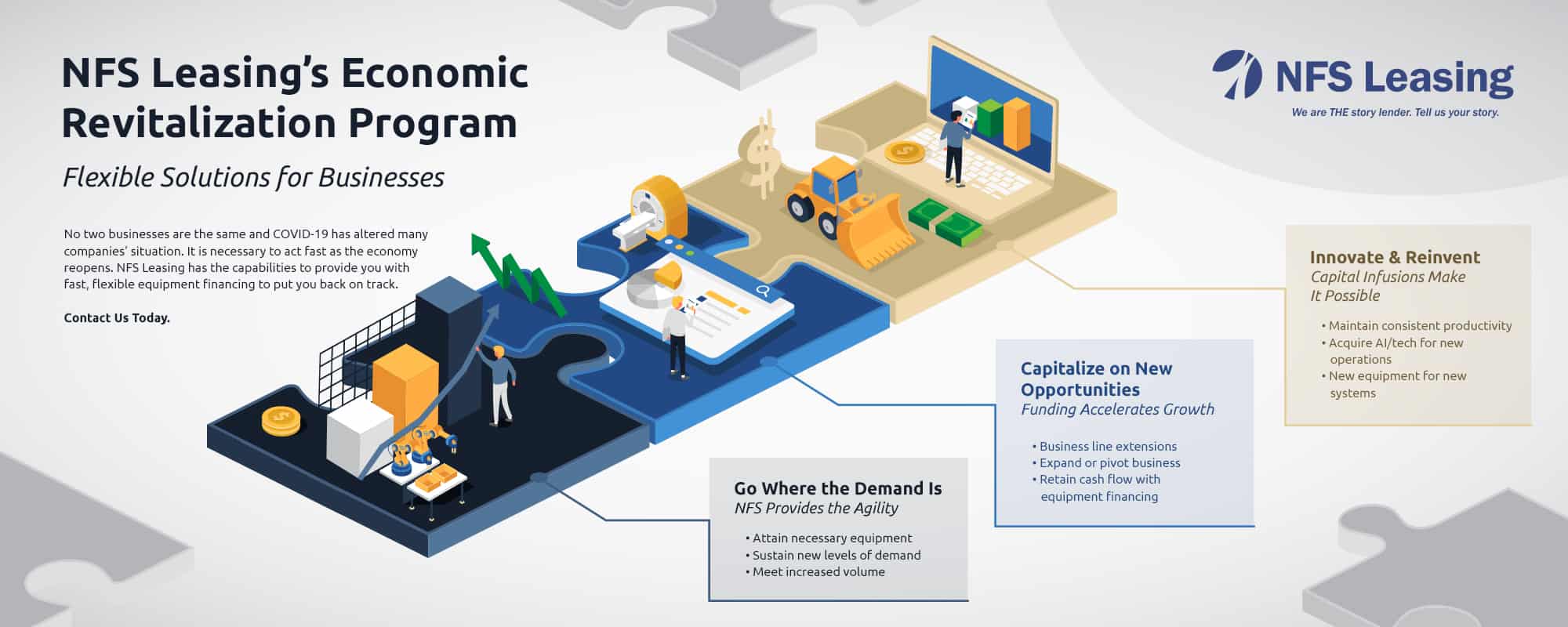 How Story Lenders Will Become More Important in the Days Ahead
by Dean Oliver, NFS Leasing Principal. Published in MonitorDaily.
The COVID-19 pandemic has changed our way of living, at least for now and for the near future. It challenges businesses with uncertainty around the future, both short-term and long-term. To meet this challenge, we must begin to ask important questions, such as: How will my business return to normal? What is "normal" now anyway? Will anybody take on the risks to help my company? What are the opportunities presented by this?
In the days ahead we will learn a lot about the answers to these questions and what the future will look like once this pandemic is over. To help ensure that the future will remain positive for your business, you may need to look for help in places you would not normally look.
For many businesses this will mean looking to financial institutions and other funding sources for assistance. However, traditional lenders may not be willing to take on the level of risk the new normal will present. Luckily, story lenders are well-versed in taking on considerable risk and will become more important for many businesses in the days ahead.
If your business feels like it is falling into the COVID-19 quicksand, contact NFS Leasing and Dean Oliver here for more information on how we can help get you back on solid ground.
Why Manufacturers Need Artificial Intelligence Now
by Dean Oliver, NFS Leasing Principal. Published in MonitorDaily.
As leasing and financial companies, when we hear the term artificial intelligence (AI), the first thing many of us think about is software and big data applications.
But the truth is many of our customers and primary lines of business are using AI in both obvious and not so obvious ways. It's an opportunity for us to finance high value, essential use equipment for customers, especially for manufacturers.
And COVID is only accelerating the pace of AI spending.
Predictive maintenance for line equipment uses AI-based algorithms and machine learning to predict mechanical malfunctions, both for prevention and to extend the useful life of the equipment. This is a key benefit if one of your concerns is how essential the AI is to the equipment. Prevention and extending useful life save customers billions of dollars. You get a higher value piece of equipment in return if you've done a true lease or you have a repossession.
The predictive nature of AI-based algorithms extends to measuring product quality and eliminating defects. CIO Magazine cites how quality control and production data & analytics are 2 areas where AI is used both right now and for future planning.
Contact Dean Oliver here if you are looking to adopt AI for your manufacturing business or to discuss new ways you and your company have been using AI.
How Equipment Financing Can Help Revitalize the Economy Post COVID-19
by Dean Oliver, NFS Leasing Principal. Published in AACFB.
"The days when we can freely attend concerts in a large, packed stadium, host a barbecue with family and friends, or even go out to dinner with our significant others, feel as if they are a thing of the past. As the COVID-19 pandemic continues, there is no definitive method to determine how far into the future days like that truly are and what a return to "normal" will look like when we get there. Will things go back to the way they were before, or will there be significant changes throughout public businesses?
Only time will tell what the new normal will look like when it is all said and done. The only certainty is that the revitalization of the economy will be a collective effort. Each industry will have their role to play as the nation (and the world) gradually rebuilds. The equipment finance industry can play a key role, and many of those efforts have already begun.
At the end of the day, we all want to make it out of this crisis as unharmed as possible. We are simply trying to make the best of the unexpected situation facing our businesses today as well as the unknown situations that will follow. There are many solutions that can assist businesses in facing the unknown and to many, part of that solution will be equipment financing."
Contact Dean Oliver here to discuss thoughts on revitalizing the economy and what approaches you and your business are taking to ensure post COVID-19 success.
Leadership in Times of Crisis
by David DePamphilis, NFS Leasing Executive Vice President. Published in ELFA.
"As a business leader, how do you react in a time of crisis? Do you overreact, panic and show great emotion? Are you buying a 10-year supply of toilet paper and hoarding hand sanitizers? In times of crisis, your employees need a leader that is measured, thoughtful and communicates with clear and concise direction on a regular basis.
As of this date, March 22, 2020, the impact of the COVID-19 pandemic has changed our way of life almost overnight. Many of us went from enjoying the daily collaboration in an office environment to being confined to your home office, trying to collaborate remotely. The change in the working environment along with the real concerns of becoming sick, has created a tremendous amount of fear and angst.
The impact to business has been significant across most industries. Approximately 18% of American households are reporting at least one member of their household losing their jobs in the month of March creating a level of anxiety for Americans not seen since the 2008 financial crisis.
It is important to find the balance of being compassionate towards your employees with also keeping the business functioning during these unprecedented times."
Contact David DePamphilis here to discuss what effects you are seeing on leadership and how your company are handling the current crisis.
Robotics: A New Frontier for the Equipment Finance Industry
by Dean Oliver, NFS Leasing Principal. Published in NEFA.
"The rise of robotics and improved automation present a massive emerging opportunity for growth in the equipment finance industry," says Dean Oliver of NFS Leasing.
Like many, I have often wondered at how technology has evolved so rapidly since the invention of the computer and the microchip, and more recently how it might evolve with the development of machine learning, artificial intelligence and the rise of industrial robotics. As a science fiction fan, I have enjoyed both optimistic (2001: A space Odyssey and Wall-E) and more dystopian (Blade Runner and Ex-Machina) visions of robotics; and I am happy to have lived through the age of the PC, the Internet, the cellphone/smart phone, and to witness electric cars become commonplace.
Today there are hundreds of new technology applications impacting virtually all industries, to such a degree that the World Economic Forum has begun to call this melding of the digital, physical and biological systems the "Fourth Industrial Revolutions" and has established a center to shape its development for the benefit of humanity.
Many have seen and are amazed by some of the most advanced robotic technologies demonstrated in the quarterly videos produced by Boston Dynamics. these robots appear incredibly versatile, lifelike and portend great advances to be made in the coming years…
Contact Dean Oliver here if you are interested in discussing how to further grow your Robotics Technologies with an equipment lease ¦ or to simply brood over the "Fourth Industrial Revolutions".
Top 10 Equipment Acquisition Trends for 2019
ELFA Forecasts Generally Positive Economy and Solid Capital Investment with Building Headwinds and Moderated Growth by Year End
The Equipment Leasing and Finance Association (ELFA) which represents the $1 trillion equipment finance sector, today revealed its Top 10 Equipment Acquisition Trends for 2019. Given U.S. businesses, nonprofits and government agencies will spend over $1.8 trillion in capital goods or fixed business investment (including software) this year, financing a majority of those assets, these trends impact a significant portion of the U.S. economy…
Equip Your Business For Success!
Welcome to the Equipment Finance Advantage Digital Toolkit.
We designed this equipment finance resource to help you learn more about using equipment leasing and financing to operate and grow your business. How can equipment leasing and financing help your business? What do you need to know before entering an equipment financing agreement? How can you make the best possible equipment financing decisions for your business? In this toolkit, you'll find the answers to these and many other questions you may have about acquiring equipment.
Contact us here to learn more about equipment leasing and financing.
8 Reasons Businesses Lease and Finance Equipment
The Vast Majority (78%) of U.S. Businesses Lease or Finance Their Equipment
The Equipment Leasing and Finance Association has released a new infographic highlighting why this method of equipment acquisition is so popular. The "8 Reasons to Finance Equipment for Your Business" infographic provides a reader-friendly, visually inviting explanation of some of the key benefits businesses enjoy when they lease or finance the equipment they need to operate and grow.
This new tool is the latest resource from ELFA's Equipment Finance Advantage website for end-users, a one-stop resource designed to help current and potential end-users of equipment financing make the best possible decisions. The infographic showcases a variety of ways businesses can use equipment finance to their strategic advantage, including:
Finance 100%: – Arrange 100% financing of your equipment, software and services with 0% down payment.
Save cash: – Save your limited cash for other areas of your business, such as expansion, improvements, marketing or R&D.
Keep up-to-date: – Keep up-to-date with technology by acquiring more and better equipment than you could if the financing option were not available.
Outsource asset management: – Let your equipment financing company manage your equipment from delivery to disposal.
Accelerate ROI: – Rather than paying one lump sum for your equipment, make smaller payments while the equipment generates revenue.
Customize your terms: – Set customized payments to match your cash flow and even seasonal income fluctuations.
Benefit from bundling: – Bundle the equipment, installation, maintenance and more into a single, easy-to-manage solution.
Hedge against inflation: – Lock in rates when you sign your lease to avoid inflation in the future.
"There's a reason nearly 8 out of 10 companies lease or finance their equipment; it makes good business sense," said ELFA President and CEO Ralph Petta. "We are pleased to present this new infographic illustrating some of the important ways our industry 'Equips Business for Success.'"
Contact us here to learn more about equipment leasing and financing.