There is nothing as important, powerful, or enjoyable as hearing the story of business success. Learning about company origins, challenges, competitive advantages, and industry outlook is essential to delivering impactful solutions. But the vision for the future is always the best part of the story. It's inspiring to hear the passion and innovation that drive companies forward. But too often, there is a hesitancy to take the risk and confidently act on big ideas. At the heart of this trepidation lies concerns over funding the critical infrastructure, like new equipment and technologies, required to make bold moves.
Equipment may be the most scalable method to grow a company. From rollercoasters to modular buildings to advanced medical technologies, we've supported a diverse group of growing companies. Across a wide variety of industries, the amount of new, revenue-producing equipment in place directly correlates to a company's ability to execute on growth plans. If a vision requires an investment like this, a solid finance strategy is critical.
Equipment First
A sound equipment finance strategy begins with a sound equipment usage strategy. Essential items to address are:
How long will the equipment be needed?
Will the company have long-term customer demand to support equipment investment?
Are companies staffed well enough to sustain increasing production requirements?
What are the delivery, installation, training requirements to get the equipment in place and driving revenue?
What is the required ramp-up time before revenues from production arrive?
Will the equipment have a secondary or lower-usage life in other applications?
How do companies dispose of end-of-life equipment?
Addressing equipment issues allows companies to build a finance strategy that maximizes flexibility, cash flow, and ROI because the financing is designed around usage. For example, equipment subject to demand fluctuations or shorter-term contracts may require usage flexibility or payments aligned with contract length. An operating lease could meet that need without committing long-term capital to short-term opportunities, minimizing business risk and amplifying financial outcomes.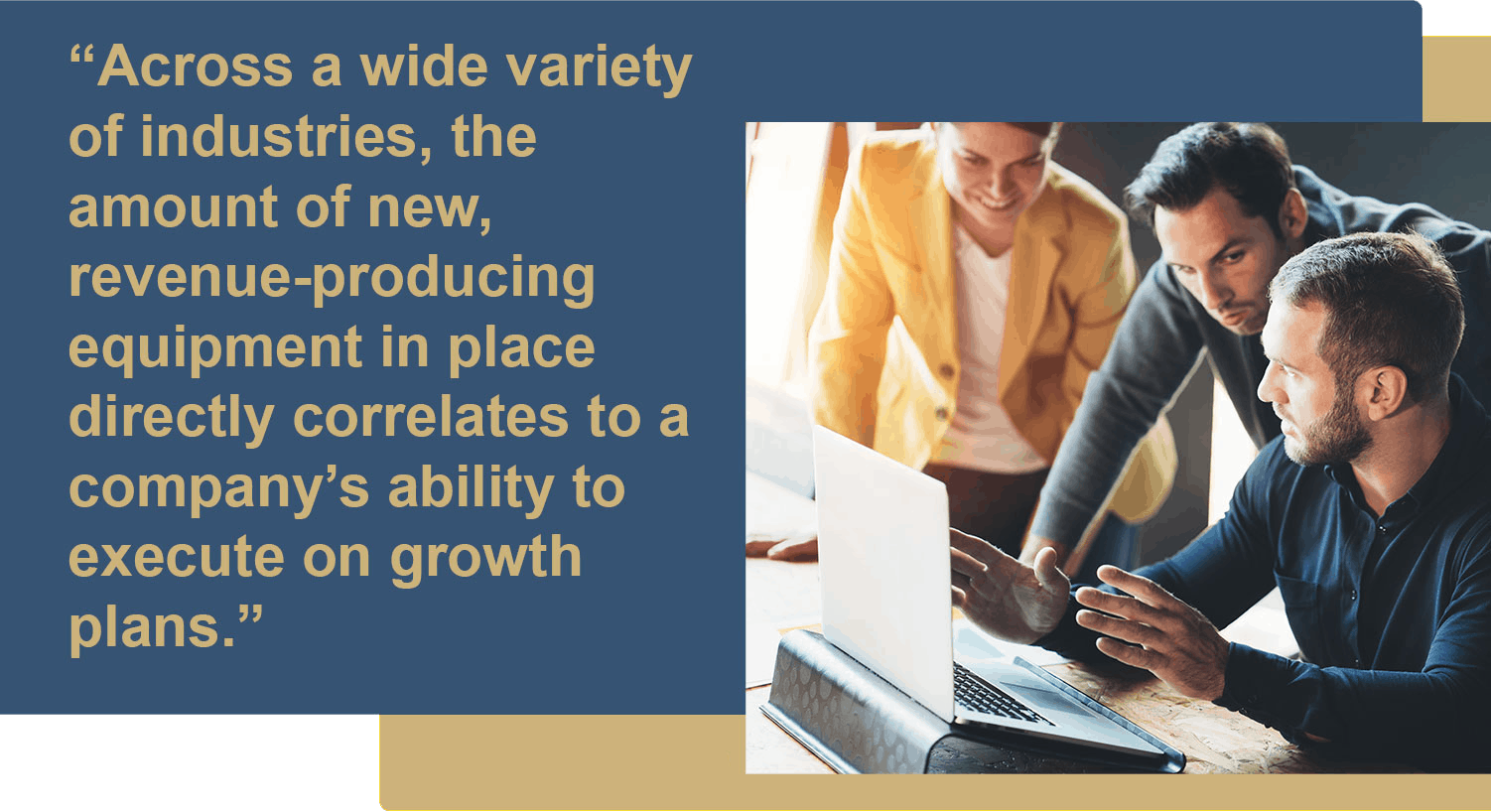 Cash is King
"We just use our revolver." "We get bank loans." Or even worse, "We'll just use our cash (equity)." These are common 'finance strategies' we hear when talking to growth leaders. But it's essential not to take a one-size-fits-all approach to equipment financing–especially when acting on a growth vision. In most aggressive growth companies, cash is king.  A sound finance strategy should work to help invest in the revenue-producing equipment needed while preserving the cash and cash flow for working capital.
Most importantly, the right finance strategy for growing companies should more effectively match cash inflows and outflows. The up-front capital commitment of a growth vision with uncertain cash recovery and ROI/TCO models might be the most significant obstacle to acting on growth plans. Creative equipment capital can help minimize this impact by reducing cash outlay and even design payments around implementation activities. For example, a company could use a step-up payment structure that lowers payment obligations in the first several months of equipment operation and gradually ramps up as revenues start arriving from new business.
Non-Traditional Capital
To start building a finance strategy to realize a growth vision, find a lender willing to invest in your story– lenders willing to invest in your future, not just your past. It requires years of experience and dedicated expertise to offer financing flexible enough to fuel early-stage, turnaround, and high-growth companies. So don't fail to capitalize on opportunities because of bank and traditional lender limitations. Out-of-the-box visions require out-of-the-box capital partners.
Whether you're actively seeking funding or beginning to put a plan in motion, NFS Leasing can help you realize your vision. Our team brings a relentless focus on finding a way forward, is highly collaborative, and demonstrates great empathy in our journey to bring differentiated non-bank lending alternatives.
With a wealth of experience deploying capital to companies requiring funding beyond the limitations of traditional lending, we are committed to digging deeper, getting creative, and solving problems. Going the extra mile is a necessary element of funding the growth visions of companies. At NFS, going the extra mile is not just what we do. It's who we are.
To learn more about NFS Leasing or begin telling your growth story to one of our experts, contact us today.
Out-of-the-box visions require out-of-the-box capital partners.