"I became really comfortable working with NFS and Dean Oliver almost immediately," says Ed McKaughan, Lema Materials LLC Owner, "Every time they said they would do something, they did it."
Equipment:
Welders & Manufacturing Equipment
Industry:
Material Production & Trucking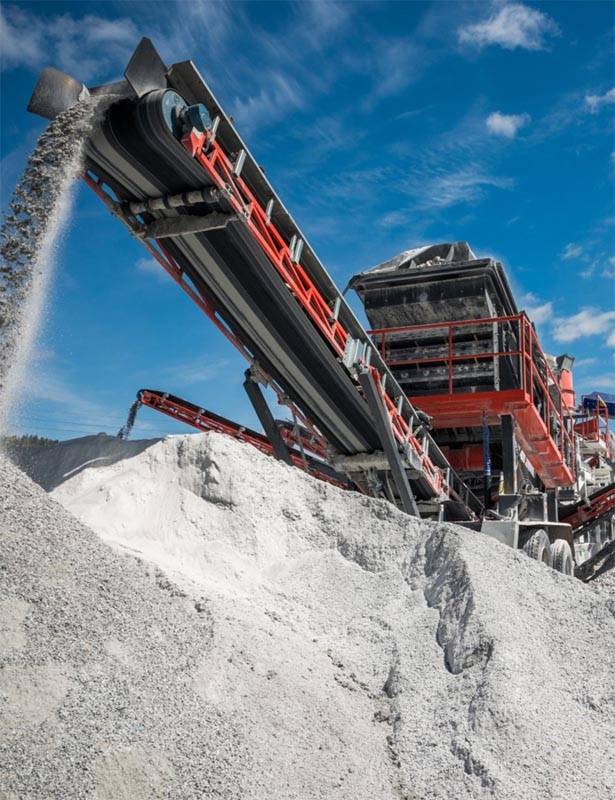 SUMMARY
Previously operating in the trucking services business since 2004, the founders of Lema Materials LLC recognized the real opportunity was in the ownership of the materials it had been transporting vs. the hauling of them. However, as an industry newcomer, Lema had to learn the ins and outs of the industry in order to compete. After a difficult experience with banks, financing from NFS Leasing enabled Lema to transition into their niche and establish a strong new presence in their market.
Entering a new industry meant the initial purchase of many hard assets would quickly use the company's cash.
Expansion of a new state-of-the-art plant on a strict timeline required both Lema and NFS Leasing to work together to meet the challenge
---
THE CLIENT
In 2012, Lema Materials LLC spotted the opportunity to expand its trucking business to also include material production and ownership. Having limited exposure to the operations involved in owning the materials, Lema started out initially with a material focus of select fill, bank sand and common fill. Lema began to not only purchase material, but also excavating it themselves. Lema has now transitioned successfully from transporting to producing, owning and selling the fill it was previously only trucking.

Fast forwarding six years, Lema saw an opportunity to expand further. This expansion included material production of concrete sand, gravel and other sands along with fill. These supplementary materials have a much higher demand and profit margin and presented an even greater opportunity for Lema.
THE CHALLENGE
In 2018 Lema Materials LLC was introduced to a landowner who was looking to repurpose a 108-acre tract of land to lakefront property for development. In doing so, there would be a large reserve of sand, gravel, and various types of dirt for Lema to excavate and process into marketable products. Lema was motivated to accept the project and immediately knew it needed to acquire new equipment and a facility to support it.

Needing to act quickly, the company approached a traditional bank and received a verbal commitment to fund the important purchases. With this information in hand, the company went ahead and procured $400K of equipment to commence site preparation to receive and erect the plant components. Upon returning to the bank to receive funding, the bank told Lema that they had made a mistake and could not fund the purchases. Left with $400K in debt and no plant funding, Lema needed to find a solution quickly.
---
THE SOLUTION
As the new guys in the industry and having its bank withdraw from a critical agreement to support an important project, Lema found itself in a difficult situation. Beaten up, but determined and motivated, Lema began looking for alternative sources of funding. Integrity was an important requirement in the search for a finance partnership.

Fortunately, Lema was introduced to NFS Leasing, and quickly recognized that NFS was going to be the right partner to finance its equipment needs. "I became really comfortable working with NFS and Dean Oliver almost immediately," says Ed McKaughan, Lema Materials LLC owner, "Every time they said they would do something, they did it." This was a refreshing experience for Lema considering what it just went through with the bank.
EXECUTION
Consistent and transparent communication allowed Lema Materials and NFS Leasing to come to an agreement quickly. The partnership between the two would mean Lema could keep to its desired timeline for the new facility and efficiently meet customer demands.

The new Lema Materials facility is unprecedented in the industry, built using state-of-the-art equipment which includes computer-controlled product sort and distribution. Not only will it be quick and efficient, but the product will have consistent quality, meeting the demands of its many clients, including those who must meet the requirements of the Texas Department of Transportation.
RESULTS
Completing the equipment financing agreement with NFS Leasing meant finishing the facility sooner than anticipated. McKaughan says of the deal "The process was so smooth that we had a three month decrease in timeline completion. Time is money. I wish we had engaged with NFS Leasing even sooner."

The equipment in the new facility allows Lema Materials to produce a premium product that much of the rest of the industry simply cannot provide with older, outdated equipment. Lema now has sufficient product to meet customer demands efficiently and grow and expand its business.


---
---
"NFS was very flexible when working through the terms. They let us know what they were willing to do for us, how it needed to be done, and why it needed to get done. Having structured multiple deals with them, it's safe to say I appreciate their partnership."

"I had a great conversation with NFS on what we wanted to do with the equipment and what we were seeking in a lease agreement, and thankfully, NFS helped us find a solution. While I have been in the mining industry for 24 years, I had never done a deal this large. Engaging with NFS was hassle-free and we were happy that we found a solid partner to fund such a large and important deal."

"They clearly laid out the deal and terms. They were direct and honest with what they were and were not able to do. No nonsense, no trickery. That allowed us to build a relationship based on trust and the process was simple and fluid because of it. What would have taken ten to fifteen years will now take four years thanks to NFS Leasing. This is allowing us the opportunity to save limbs and lives now. NFS Leasing was and is still genuinely interested in Sanuwave and working towards its continued success. Money is a commodity and can be found almost anywhere but finding a partner who cares about the company means a lot to us."

"Working through the initial challenges with NFS was excellent. The level of responsiveness was fantastic, and they have an extremely high level of service. NFS followed a simple process. The communication was fast and realistic. Overall, I would give NFS an A+."

"NFS was willing to sign lease deals that were fair, while it felt like other leasing companies would take advantage of us at every opportunity. It seemed as if NFS wanted to get the deal done. There were no onerous processes, no particularly crafted steps and procedures to follow, which made NFS easy to work with."

"NFS was patient when we engaged with them and I really appreciated that. We had a unique situation being a waterpark and having a lot of moving parts from the manufacturer. Finding a financial partner that had the ability to be flexible in the terms and the patience to deal with inconsistent communication from the manufacturer was incredibly helpful for us."

"The communication with NFS Leasing was great. They were very easy to reach, hassle-free, and extremely knowledgeable. They were simple and straightforward; very honest and upfront with what could be accomplished. We were successfully able to write our project plan based on NFS's commitment and that helped start off the project on the right foot."

"POP Gourmet was experiencing rapid growth and demand. As a young company we needed an equipment finance partner that would get to know us as a company and grow with us. NFS Leasing stepped in and took the time to get to know our Company and partner with us to acquire the production equipment we needed. NFS provided flexibility, responsiveness, and value. We highly recommend NFS."

"Having worked with NFS Leasing at a prior firm, when we started Disruptor Beam I did not hesitate to call on them again. Dean and the team at NFS Leasing really get it. They listen and understand our story and our needs, and they have numerous vendor relationships that help provide a superior level of service. When we grow they are always willing to grow with us. I recommend them highly."

"Limestone Networks has been working with the team at NFS Leasing for several years. They took the time to understand our company, the needs of our business, and our growth strategy. They are fast, responsive, and thorough. NFS has become not only a supportive vendor, but an integral part of our success."

"From the beginning, NFS Leasing has been an invaluable asset in helping us serve our customers. Their team of experienced executives has enabled our channel oriented business model, and they are an outstanding partner, offering flexible and creative solutions to our financing needs. It has been a pleasure working with NFS and we look forward to their assistance in providing our future finance needs."

"In the early stages of our growth at DTT our business model required that we explore leasing as a way to finance our growth. NFS Leasing stepped up and partnered with us. They took the time to really understand our business and gave us the financial flexibility to add customers without concern for financing the required equipment to do so. They were honest and responsive and I would highly recommend them as an equipment leasing source."

"A rapidly growing technology business like nScaled has constant equipment needs. Leasing was a perfect way to get the equipment we needed, when we needed it, and allow us to continue to focus resources on our operation. NFS made leasing easy for us, and has grown with us as we have expanded as a company. If you want to speak with someone that can help you with your infrastructure expansion business needs, you should call the team at NFS Leasing."

"AirSage pioneered the transformation of wireless network signaling data into powerful location information, creating a way to collect and analyze real-time mobile signals to produce over 15 billion anonymous locations every day. As a growing technology firm with state-of-the-art data and technology requirements, having updated equipment is essential to the growth of our business. That's why we rely on, and wholeheartedly recommend, NFS to take care of any equipment finance needs."

"NFS has enabled Everyone Counts to keep up with emerging technology and provide the tools needed to bring modern election administration and voting systems to election officials. Their flexibility and knowledge of the technology industry sets them apart from the other leasing providers. They are responsive, easy to work with, and consummate professionals, I recommend them highly!"

"Agile Networks turned to NFS Leasing to finance a major network expansion resulting in the first and only statewide 1 Gigabit backhaul network providing services in all 88 Ohio counties. NFS was especially easy to work with, exceptionally efficient, and thorough in their approach. Their contributions were critical for us to complete our expansion in record time for our customer, a major mobile carrier. I highly recommend NFS as a trusted partner and look forward to working with them as we continue our growth."
YEARS IN BUSINESS
+235 YEARS COMBINED MANAGEMENT EXPERTISE
OVER 5,000
CLIENTS & PARTNERS
APPROACHING $1 BILLION
IN TOTAL FUNDED TRANSACTIONS